Ephesians 2: 8
" For it is by grace you have been saved, through faith- and this is not from yourselves, it is the gift of God- "
Thank you, Jesus! It's Friday, we've had a few days of sunshine and above freezing temps, and I'm
saved
!! It doesn't get much better than that.
Yesterday, I shared with you how I was going to run, and I actually did! Because it had been several weeks, I didn't time myself and I'm not quite sure how far I ran. I know it was a little more than 2 miles. Even though I am a little sore today, it feels great to get outside and move. The kids were even able to play outside the last few days without sleds and snowboots. Spring is in the air. I had errands to run yesterday that took me to one of my favorite stores, Target. I wanted to share with you a couple of things that I literally paid under $7 for, that have stoked my happy today.
I purchased my tee-shirt for $5 and my nail polish for $1.99!! both at Target
My nail polish is "Easy Going"- by SinfulColors, it's a very pale pink, very Springy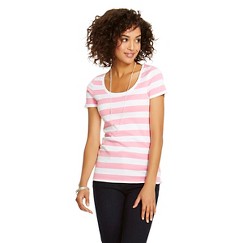 This tee and many other styles and colors are on sale this week for only $5 at Target
Full price I would have paid $6.99 for both items, but I used my Target REDcard and saved an additional 5%!! (that's 35 cents, baby!). I feel a lot more comfortable saving as much money as I can for my family. I'd love to hear from you if you have a great way to save money. Please comment below. Also, on yesterday's blog
Get fit...quick!
, I shared with you a few things that I'm doing to get fit. I'd love to know what you're doing (or not doing) and I would love for you to join me. It would be wonderful to get encouragement from one another. Have a wonderful, blessed weekend!