Job 40: 15
" Look at Behemoth, which I made along with you and which feeds on grass like an ox. "
For the sake of argument we are going to assume that "Behemoth" referenced here in Job, is an elephant. Please forgive me if you think it is a rhinoceros or a dinosaur. Throughout Job we see a seemingly good man (Job) go through the most horrible of circumstances. And Job is a good man, but he is a man. God wants Job to recognize himself as a sinful creature, and God as, well, God! Let us never forget, that God is not just our creator, but the creator of all. He is almighty, all powerful, all goodness, all mercy, all...awe. When you are in your quiet time today, remember the power and might of our Creator. Be in awe of His all.
Here's where the elephant comes in...
So last week I was picking out my Easter dress, and I picked this one.
Dress- Lilly Pulitzer -Rosie Square Neck-Seeing Pink Elephants
(no longer available- click link above for similar dress)
I purchased this dress on sale last fall from
The Pink Silhouette
, and it is so pretty! It still had the tags on it, it was fresh and new and so cute. But, Sunday was a bit chilly. I did not wear this pretty dress. Instead, I wore my navy blue lace, Chaps dress that my fave husband bought me for Christmas. And I forgot to take a picture of it (I just can't seem to get a handle on this whole "selfie" thing!). It also still had the tags on it, so it was fresh and new, too. I wore a beautiful peach colored necklace with it. It was a great classic outfit, hopefully you'll see a pic of it sometime. I looked marvelous!! ( insert Billy Crystal impersonating Fernando Lamas voice here).
Here's a pic of the necklace...
and here's that stripe and floral outfit I put together last spring!
And here's a similar dress to the one my husband bought me (mine is no longer available)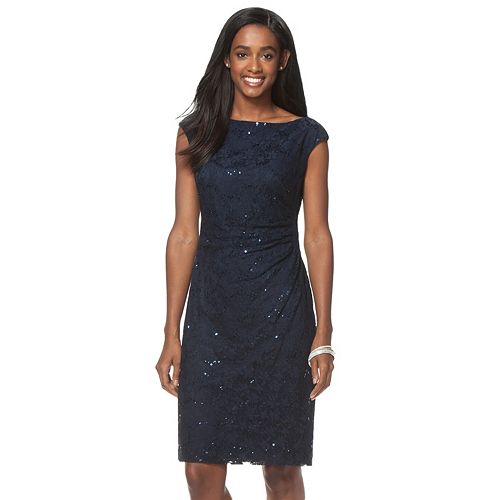 My dress is also not sparkly.
He purchased my dress at Kohl's last Christmas.
(click here for information on this dress)
And last, but not least, here's a pic of my babydoll on Easter in her pretty Easter dress.
(you can find details about this pretty dress and shoes here)
I pray you all have a wonderful weekend!!