Isaiah 9: 5
" Every warrior's boot used in battle and every garment rolled in blood will be destined for burning, will be fuel for the fire. "
Read down to the next verse in Isaiah to verse 6 where Isaiah is giving the prophecy of the birth of Christ,
" For a child will be born to us, a son will be given to us;..." . It gives me goosebumps! Or, maybe it's just cold in my house this morning. Well, either way, I do love the beautiful tapestry the Bible weaves for us, giving us glimpses of the glory yet to come. Prepare your heart for the "Wonderful Counselor, Mighty God, Eternal Father, Prince of Peace. "
(also vs. 6)
. Prepare yourselves for the coming of the Lord.
I feel a need to prepare for winter this week. It has been pretty chilly the last couple of weeks (on and off), and we're going to have another chilly weekend. I'm more of a warm weather girl, but I do like the change of season. Let's face it, fall is beautiful. I also get to revisit my fall/winter wardrobe. Last year my snow boots bit the dust, and since here in Maryland, it's usually feast or famine with snow, I opted for some classic "duck boots" to replace them. I purchased them from
Land's End
. I love their classic, preppy style. Here's a pic.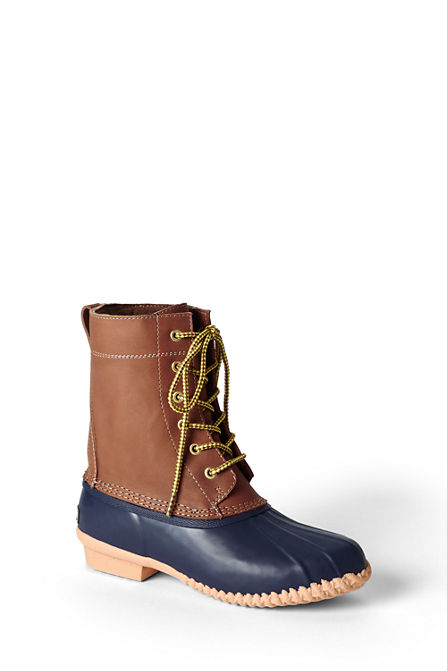 When I ordered them they were 40% off, but they are only $99 regular price.
These are the perfect boots for Maryland weather.
(Click here for link)
Here's how you should properly wear them.
Here's how I'm sure I'll wear them 90% of the time, with jeans or leggings and socks.
(pic from A Southern Drawl)
I think they also look classic with tights and socks even with a skirt.
(pic found on Pinterest)
What are you doing to prepare yourself for the upcoming season? Are you putting extra throws and pillows out around the house? Have you found the perfect pair of boots or sweater to add to your wardrobe? Please take a moment and comment below and share your how you prepare!
I pray you have a fabulous day!