Proverbs 21: 1
" In the Lord's hand the king's heart is a stream of water that he channels towards all who please him. "
This weekend I was able to walk on the boardwalk in Rehoboth Beach. I was surprised by all of the people that were there, even though the temps are too cool for sunbathing. While we were checking out some of the shops, we ran across a coffee/dessert shop that sells an Austrian confection, Kaiserschmarrn. I couldn't remember what it was called the rest of the night and called it "farfegnugen" (you gotta love me). We were lured in by the shop's owner who promised us a free sample, and $10 later, came out with a hot cup of tea (vanilla chai latte) and some kaiserschmarrn to share. It was delicious. Quite simply, kaiserschmarrn is a torn pancake mixed with rum soaked raisins, butter, and topped with lots of confectioners sugar; sort of like a funnel cake, but not deep fried. Apparently this dish got it's name specifically because it was first served to the kaiser, Franz Joseph, and his wife. Today it's a popular Austrian dessert served in taverns and ski lodges in the Austrian Alps. I think it would make a delicious holiday breakfast.
Here's a recipe for kaiserschmarrn that I found on
allrecipes.com
(click on the link to try it out).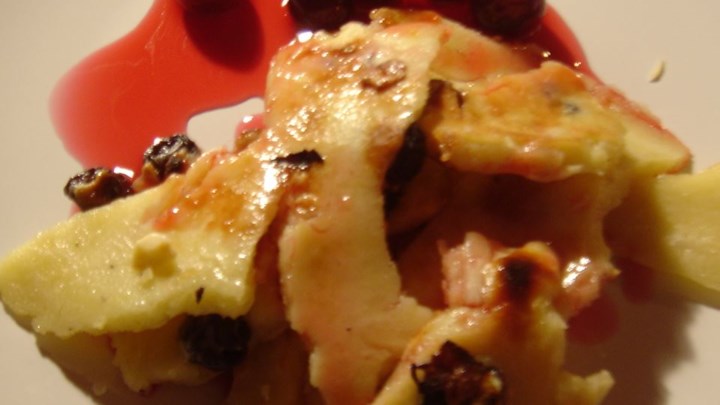 This recipe has it served with a side of plum sauce, I did not have any of that on Saturday, but why not give it a try.
(photo from allrecipes.com )
The shop in Rehoboth is called
Kaisy's Delights
. If you're in the area give it a try. Not only was the kaiserschmarrn delicious, the employees where delightful and friendly.
I pray today that you put your heart in the hand of the Lord and he guides you like as stream of water.