1 Corinthians 16 : 2
" On the first day of the week, each one of you should set aside a sum of money in keeping with your income, saving it up, so that when I come no collections will have to be made. "
Don't worry, this post is not about tithing or saving (although maybe a future post could be about financial responsibility...), I was looking for a day of the week or just the word week in the Bible. Our calendars just aren't compatible (apparently we didn't start using our "Western" calendar for about 1500 years after Jesus). Today, is Friday!!! I love Friday, and if you're in the workforce out and about, your place of business just might let you dress casually on a Friday. Well, I'm a domestic goddess, so I can have casual Sunday, Monday, Tuesday, Wednesday, Thursday,...you get the point. Dressing casually, in either situation doesn't mean sloppy, or looking like you're about to clean out your crawl space. You can still look good, and casual. Truth!
Since my birthday and Christmas are both in December, I get more clothes this time of the year than any other (yay!). I got 4 beautiful new dresses, 2 pair of great new shoes, some super comfy fleece jackets, and, the reason for my post, 2 adorable legging outfits. Leggings??? Yup, they've been back for a couple of years now, and I'm all for it. For my day to day wardrobe, I need easy, comfortable, active, washable, fun, cute clothes. These 2 outfits fit the bill.
Outfit #1:
Outfit #2: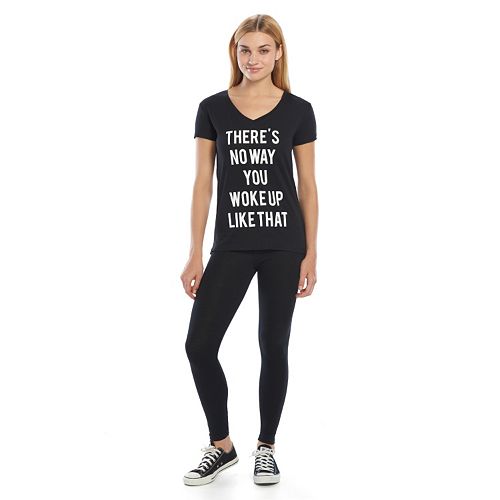 My top actually says "But First Coffee" (another truth!) and it's white with black leggings.
I got this outfit at Kohl's after Christmas.
(click above link for details)

I imagine myself curled up on the sofa with a cup of hot cocoa, or a bowl of homemade chicken soup reading a good book or watching a great movie, in either one of these cute outfits this winter. The reality is, I walk the dog, crawl around on the floor with my toddler and scrub the toilets. But, more importantly, I look good doing it!!
I pray you have a blessed weekend,
and that you get to do good, casual things with your family and friends!