Philippians 3: 13
" Brothers and sisters, I do not consider myself yet to have taken ahold of it. But one thing I do: Forgetting what is behind and straining toward what is ahead, "
The title of these last few paragraphs in Paul's letter to the Philippians is " Press on Toward the Goal ". I love it! Yes, we suffer setbacks all of the time (in my case nearly everyday, lol!), but we press on, " forgetting what is behind and straining toward what is ahead". I love it that even Paul doesn't feel he is perfect (I know he isn't truly perfect, that distinction is saved for Christ). Press on my friends, forget what is behind and strain toward what is ahead: the call, the promise, the prize of Jesus Christ our Lord. Amen.
I have a lot to look forward to in the next couple of months. I have Thanksgiving, Birthdays, my 15th Anniversary, Christmas and then another New Year!! I love the anticipation of the holiday's. They hold for me hope of family, togetherness, home, and of peace and comfort and joy. Here are some things that I really want to do in my own home this holiday season.
1. Host a family meal...for all of us (if at all possible...)
2. Have an anniversary date night with my hubby!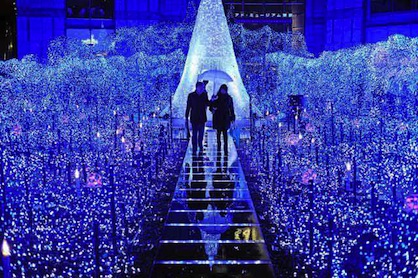 Holiday lights and a gourmet coffee would be heaven!
Image found on Pinterest
3. A day at the spa for my birthday, aaahhh.....
4. Christmas jammies for the crew!
5.Simple homemade decorations and gifts. I found a couple of links for this, so many great ideas and preferences.